Download a map of Governors Island
Early Access Ferry Tickets
2020 Ferry Service

Capacity on Governors Island ferries will be limited during the 2020 season to allow for social distancing. All visitors, including those who are eligible for a free fare, must reserve tickets in advance through the ticket reservation system below. Ferries run from:
Lower Manhattan: The Battery Maritime Building, located at 10 South Street (DAILY)
Brooklyn: Red Hook/Atlantic Basin, located at the intersection of Pioneer Street and Conover Street (SATURDAY & SUNDAY ONLY).
The schedules listed below are subject to change.
*Please note, there will be no Brooklyn ferries from Pier 6 at Brooklyn Bridge Park in 2020. Public parking is not available inside Atlantic Basin. Vehicles without permits will be towed.
Booking Instructions
Tickets may be reserved online below. All major credit cards are accepted. Tickets will be released for additional dates every day on a rolling basis.
If you would like to pay for tickets with cash, please email ferrytickets@govisland.org to make your ticket reservation or call (646) 660-1134 (please note, the phone is staffed daily from 9:30AM-3:30PM). Reservations are still required for visitors wishing to pay cash. When you arrive for your ferry, proceed to the ticketing agent to complete your transaction.
Please note, we are unable to process refunds for any ticket reservation. Any changes to your reservation must be made 48 hours in advance of your departure time, after which point we are unable to process.
Please note that reservations are limited to 10 tickets per transaction. Please limit the size of groups visiting Governors Island to 10 people or less.
The Trust for Governors Island offers special waived fares for non-profit community-based organizations, youth camps, and senior centers throughout New York City, subject to availability. To inquire about special group visits, organizations may email groupvisits@govisland.org at least two weeks in advance of their requested visit date.
Boarding and Riding the Ferry
Please arrive 15-30 minutes prior to your ferry departure time. We will start processing the line to access the Island 30 minutes before your departure time and will be closing processing 5 minutes before departure to ensure all visitors board safely.
Visitors are required to wear face coverings at all times while boarding and riding Governors Island ferries, and on Governors Island when social distancing is not possible.
Visitors must depart on their assigned return ferry time selected at purchase. The departure time on your ticket is the ferry time where your spot is reserved. If you want to leave before or after that time, you will need to enter the standby line, as spots on other ferries will be first-come, first-served.
Fares
| | |
| --- | --- |
| $3 | Adults |
| Free | Seniors 65 and over |
| | Children 12 and under |
| | Residents of NYCHA housing |
| | IDNYC holders |
| | Military servicemembers (former and active) |
| | Governors Island members |
Passengers ride free on Saturdays and Sundays before noon.
There is no surcharge for bicycles at any time. Space for bikes and strollers is limited, and they will be allowed on each ferry on a first-come, first-served basis.
All ferries are wheelchair accessible.
---
Select your fare category
General Admission
Military
Residents of NYCHA Housing
IDNYC holders
Members / Community Groups
Ferry Schedules
Manhattan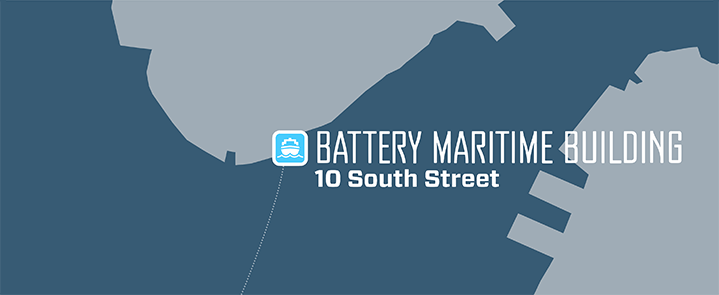 Monday-Friday
From Manhattan
From Governors Island
10:00am
10:40am
11:20am
12:00pm
12:40pm
1:20pm
2:00pm
2:40pm
3:20pm
4:00pm
10:20am
11:00am
11:40am
12:20pm
1:00pm
1:40pm
2:20pm
3:00pm
3:40pm
4:20pm
5:00pm
5:40pm
6:15pm
Saturday-Sunday
From Manhattan
From Governors Island
10:00am
10:40am
11:20am
12:00pm
12:40pm
1:20pm
2:00pm
2:40pm
3:20pm
4:00pm
4:40pm
10:20am
11:00am
11:40am
12:20pm
1:00pm
1:40pm
2:20pm
3:00pm
3:40pm
4:20pm
5:00pm
5:40pm
6:20pm
7:00pm
Battery Maritime Building
10 South Street
Subway
South Ferry
Bowling Green
Whitehall Street
Bus
M15, M20, M55
Brooklyn
Service change
: In 2020, ferries run from Red Hook/Atlantic Basin on weekends starting July 18. There will be no Governors Island ferry service from Pier 6 this season
Monday-Friday
No ferries to Governors Island from Brooklyn on weekdays
Saturday-Sunday
From Brooklyn
From Governors Island
11:00am
11:30am
12:00pm
12:30pm
1:00pm
1:30pm
2:00pm
2:30pm
3:00pm
3:30pm
4:00pm
4:30pm
5:00pm
11:15am
11:45am
12:15pm
12:45pm
1:15pm
1:45pm
2:15pm
2:45pm
3:15pm
3:45pm
4:15pm
4:45pm
5:15pm
5:45pm
6:15pm
6:45pm
Red Hook/Atlantic Basin
Enter at corner of Pioneer St. and Conover St.
Subway
Smith-9th Streets
Bus
B61
NYC Ferry Service
Governors Island Shuttle
The city's NYC Ferry service will offer additional connections to Governors Island's Yankee Pier via a dedicated weekend shuttle from Wall Street/Pier 11 which will operate approximately every 30 minutes beginning July 18. Tickets are $2.75 or by free transfer from any NYC Ferry route.
All visitors who arrive to Governors Island via NYC Ferry are strongly encouraged to depart using NYC Ferry as the Governors Island ferry service will operate on a reservation ticket service and walk-up tickets are not guaranteed.
NYC Ferry riders are required to wear a mask or face covering while onboard, even on the upper deck.
View NYC Ferry's Schedule
Wall St. / Pier 11
Gouverneur Lane at South Street, F.D.R. Drive
Subway
South Ferry
Wall Street
Broad Street
Bus
M15, QM7, QM8, X8, X14