Ferry Schedules
Manhattan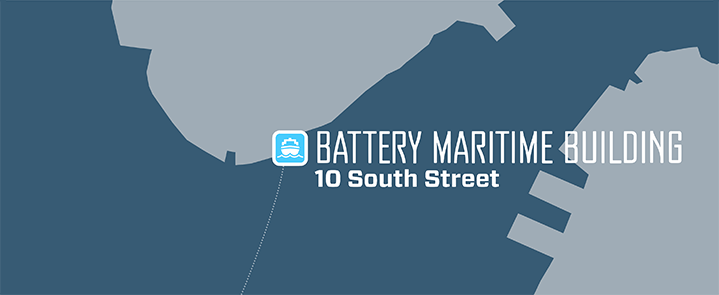 Monday-Friday
From Manhattan
From Governors Island
10:00am
11:00am
12:00pm
1:00pm
2:00pm
3:00pm
3:45pm
4:15pm
10:30am
11:30am
12:30pm
1:30pm
2:30pm
3:30pm
4:00pm
4:30pm
5:00pm
6:00pm
Late Fridays (May 25-Sept 14)
From Manhattan
From Governors Island
4:45pm
5:30pm
6:30pm
7:00pm
7:30pm
8:30pm
7:00pm
8:00pm
9:00pm
10:00pm
11:00pm
Saturday-Sunday
From Manhattan
From Governors Island
10:00am
11:00am
11:30am
12:00pm
12:30pm
1:00pm
1:30pm
2:00pm
2:30pm
3:00pm
3:30pm
4:00pm
4:30pm
5:00pm
5:30pm
10:30am
11:30am
12:00pm
12:30pm
1:00pm
1:30pm
2:00pm
2:30pm
3:00pm
3:30pm
4:30pm
5:15pm
6:00pm
6:30pm
7:00pm
Late Saturdays (July 7-Sept 1)
From Manhattan
From Governors Island
6:00pm
6:30pm
6:45pm
7:30pm
8:30pm
9:30pm
8:00pm
9:00pm
10:00pm
11:00pm
Battery Maritime Building
10 South Street
Subway
South Ferry
Bowling Green
Whitehall Street
Bus
M9, M15
Brooklyn
Monday-Friday
No ferries to Governors Island from Brooklyn on weekdays
Saturday-Sunday
From Brooklyn
From Governors Island
11:00am
11:30am
12:30pm
1:30pm
2:30pm
3:30pm
4:30pm
5:30pm
11:15am
12:00pm
1:00pm
2:00pm
3:00pm
4:00pm
5:00pm
6:00pm
7:00pm
Pier 6
Atlantic Avenue and Brooklyn Bridge Park Greenway
Subway
Borough Hall
Court Street
Bus
B63
Fares
Round Trip

Adult

$3

Round Trip

Senior Citizen

$1

Children Under 13

Free

IDNYC Holders

Free

Military Personnel

Free

Senior Citizen Season Pass

$10.00

Season Pass

$30.00
Free Rides
Passengers ride free on Saturdays and Sundays before noon.
---
There is no surcharge for bicycles at any time. Space for bikes and strollers is limited, and they will be allowed on each ferry on a first-come, first-served basis.
All ferries are wheelchair accessible.
Purchasing Tickets
Tickets for Governors Island ferries can be most easily purchased in person during ferry hours at the ticket booths at Battery Maritime Building in Manhattan and Pier 6 in Brooklyn. There are often lines to board, so you should plan to arrive 10-15 minutes before your planned departure.
NYC Ferry Service to Governors Island Pier 102 - NOTE SERVICE CHANGE
Due to maintenance work at Pier 102 on Governors Island (where NYC Ferry docks), all riders wishing to visit the Island will need to transfer to a ferry shuttle at Pier 11/ Wall Street that will take them directly to Yankee Pier on Governors Island. Riders on all routes will need to transfer to this ferry shuttle, which can be accessed at Slip A at Pier 11.
The ferry shuttle will not operate on a regular schedule and will pick up and drop off passengers on a continual basis. To board the ferry shuttle, all riders are required to show a valid NYCF app or paper ticket, or a transfer ticket.
Additionally, due many events taking place on Governors Island this weekend, we anticipate larger than normal crowds and suggest that you budget your time accordingly when making your way off the island. To depart the island using the NYC Ferry shuttle to Pier 11/Wall Street, riders must be in the departure line at Yankee Pier by 6:00 PM. After that time, riders will be directed to take either the Governors Island ferry service to Pier 6 in Brooklyn or to the Battery Maritime Building in Lower Manhattan.
Thank you for your patience. For more information visit http://ferry.nyc
---